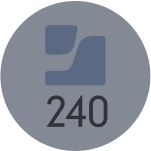 Jamf 240 Course: Apple device management with Jamf School
Become a Jamf Certified Tech for Jamf School with the official Jamf 240 course.
The Jamf 240 Course offers a core understanding of Jamf School, as well as an education-focused inquiry into the iOS, iPadOS, and macOS platforms. Our hands-on example- and discussion-based environment is a great way to learn Jamf School.
Taking place over two days, this course teaches delegates how to succeed with Jamf School, the education-focused management solution. 

Topics:
Introduction and configuration of Jamf School
Creating User Groups and Classes
Enrolling computers and mobile devices using Automated Device Enrolment
Organizing devices into groups and configuring Shared iPad
Managing devices with profiles and Quick Action Commands
Delivering apps and content to computers and mobile devices
Building and managing packages for deployment to computers
Creating incident types for internal device tracking
Configuring Jamf Teacher, Jamf Parent and Jamf Student
Prerequisites:
There are no formal prerequisites for this course, however, delegates are expected to have a basic understanding of macOS, iOS, and iPadOS.
Requirements:
A reliable internet connection – capable of receiving 5.0 Mbps and sending 3.0 Mbps
A (non-production or production) Mac with any version of macOS 13 Ventura that also has Administrator account credentials
A test (non-production) iPad with any version of iPadOS 16
Optional, but highly encouraged: an external monitor
What's included:
Two days (9am-5pm each day) of remote learning in instructor-led classes
Server infrastructure (dedicated Jamf School server for the duration of the course)
Digital course materials
Certification exam following the course
Jamf Certified Tech – Jamf School badge on your Jamf Nation profile (upon successfully completing the exam with a passing score)
Upcoming Jamf 240 Course Dates
Please note: All Jamf 240 training is delivered in a remote, instructor-led format.
Remote Jamf 240 online course schedule